Are you interested in reading about ChickLidz, a hub of information for the many types of hats that women and girls wear? Are you looking to find hats and caps that you want to make a part of your own life, or the life of that special female in your life?
Welcome. I am glad you're here, and I hope you will come back to visit often (hopefully, with a cup of coffee in hand!).
The Story Begins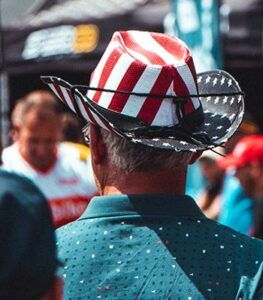 Hats and caps and headbands have always been of interest to me. Being a ballplayer as a kid, I was always wearing a ball cap. On vacation in Estes Park, Colorado, the red, white and blue cap my parents bought me was one of my favorites for years.
Watching westerns on TV, and driving through Texas on family trips, I noticed the cool-looking hats that the cowboys were wearing. I thought to myself, I wouldn't look good in one of those, but I sure do like them.
Later, the duffer caps (also called flat caps or ivy caps) really piqued my interest, and I had to have one. Okay, several. The obsession grew from there!
As life came full circle, my obsession caused me to want to share this passion with others. And, thus, ChickLidz was born. You may have guessed by now, from the types and styles of hats and caps I've mentioned … I am a dude! But, I just love how the "lidz" look on my daughters and wife and many other women and girls. They are just so cool!
Why We Are Here
ChickLidz exists to cut through the "hat noise" and simplify your hat searches while providing helpful and entertaining information that will help. The marketplace is super crowded, so we continually strive to gain your interest and your trust as you search for the extra style and pizzaz that hats can provide.
Read the post, Why Hats and Caps for Women and Girls
Our Goal
ChickLidz functions as a centralized place where you can find a plethora of options for your hat needs. We have tried to organize the site (and will continue to tweak it) in a way that makes it really easy for you to find what you need. There are tons and tons of options, so there are several ways to find the hats and caps and even related accessories that fit what you are looking for.
If you ever need a hand or have any questions, feel free to leave them below and we will be more than happy to help you out.
Remember … you can never have too many hats!
All the best,
chicklidz
Put on Your Thinking Cap:
Are you surprised that this website is put together by a "dude?" Does that pique your interest in coming back to the site more, or less?

Have you already read my post about why this site came about … the deeper reason? There is a link to that post above, in the "Why We Are Here" section.

Do you have just a casual interest in hats and caps for women and girls, or are you a power "hatter", if that is even a thing? Either way, thanks for visiting the site! I'd love to hear from you in the comments below!

Leave Your Comment(s) Below…