Unless you work in the fashion industry, you may not realize or have thought about the fact that there a ton of women's hat styles in the marketplace. There are so many variations of hats and caps for females that you will be amazed when you see them listed all in one place, as I have done below. That is what I want to do in this article. I hope to paint a picture of the choices you have when looking at options for your headwear.
Main Categories of Women's Hat Styles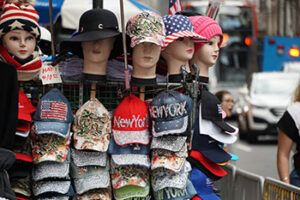 This may not be a perfectly exhaustive list, but I will cover many of the main styles of hats that are in existence today. If I miss an especially obvious one, please reach out and let me know.
Some of the most obvious categories include the following: baseball hats, beach/sun hats, beanies, cowboy hats, dress hats, fedora hats, and visors. Other possibly lesser-thought-of types of hats round out a pretty strong list: beret, bowler hat, bucket hat, cloche hat, duckbill hat, gambler hat, golf hat, kettle brim hat, rancher hat, lampshade hat, outdoor hat, Panama hat, rodeo hat, safari hat, straw hat, trucker hat, turban, vintage hat, watch cap and more.
If you're like me, there were a few categories that you've never heard of. Or, at least never thought of them in relation to women's hats! I "think" I am pretty knowledgeable about hats, but there were a few I would not have thought of, right off the bat.
Believe me, there are even more categories than the ones listed here, and I plan to explore most all of them … for your education, enjoyment, and entertainment. It should be fun. I look forward to learning and sharing them with you!
We are not even going to explore all the color variations, not only in the materials but in the accessories that might be applied or attached to the hats. It gets a little crazy after a while, but it's a lot of fun.
Women's Hat Materials – What They are Made Of
If you sit and think about it, it makes sense that there would be a variety of materials that hats are created with. However, that's probably not something you just sit around and think about, right?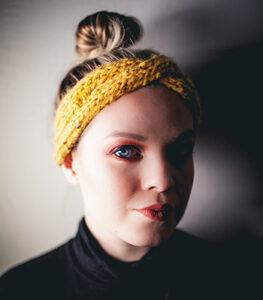 If you're paying attention, you will easily notice hats made out of materials like cotton, leather, plastic, straw and wool. There are also hats and caps made of raffia and tweed; canvas and cashmere; denim and faux fur; felt and hemp; and polyester and twill. These materials can be sub-divided further into features like lace and woven hats; braided and crocheted hats and caps; and cabled, patterned and blended hats, among others.
Are you a little starry-eyed now, just thinking of all the possibilities?
Hats or Caps?
While there is some difference of opinion between folks, it seems that most people classify a hat as the "major" category while caps are kind of a subset of hats. Of course, the two are used very interchangeably in the real world, but if a piece of headwear has a brim that goes all the way around the head, it is most often thought to be a "hat." If it has a circular shape and the crown of the thing has some shape to it, it is most properly thought of as a "hat."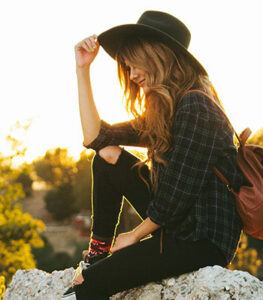 A "cap" is generally thought to have a brim that does "not" go all the way around the head, and the crown of the headwear article does not have as defined a shape.
I don't think there are any hat police out there, roaming the streets, so you're not likely to take any real heat if you call a hat a cap, or vice versa. However, it's nice to know the lay of the land in most situations, and I want to keep it as real as possible, and increase our overall education whenever I have the opportunity.
The bottom line: I love all kinds of hats and caps and headbands and headwraps. It's great for you to have so many options, and my aim is to help you in that department, too.
You Have Options so You Can Take Action
We are truly blessed in this day and age. The options we have are almost mind-boggling.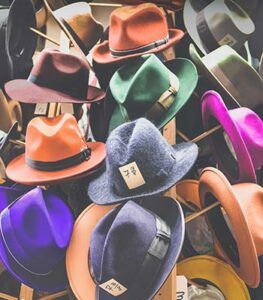 Back in the day, and I mean way back, a catalog was a really good thing to have in your posession. If you had the money, you could flip through the pages, find something you wanted (or even needed), and order it from the store, without ever having to leave your wooden bench. After "x" number of weeks or months, you would receive your order and you would be just as happy as a clam.
In our world, your imagination can take you about anywhere, and you are only limited by the amount of money in ole "Hip National" bank. You can go as far as that piece of plastic in your wallet will take you.
For you to take action and find a new favorite beret or rancher hat, or beanie cap, you just browse through a website or an app, click or touch a few buttons, and you can order to your heart's content, for as long as your money or credit can hold out. You may even receive your order the next day.
Stay Tuned and Hang On to Your Hat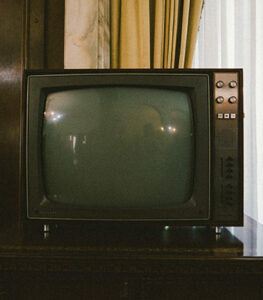 I hope you will stay tuned in to this channel to see what we put in front of you as the days and months and years go by. Remember to hang on to your hat and enjoy the ride. These are great times and there are great days ahead.
Just remember that you can never have too many hats. It's doubtful that we will cover all of the hats in existence in all the places of the world, but we will give it a good ole college try.
May the hats be with you!
chicklidz
Put on Your Thinking Cap:
Were you surprised by all the different types of hats styles?

How many different hat styles does your own personal collection of hats and caps include?

Do you use the terms, hats and caps, interchangeably? Did you realize there was even a difference?

Are you just a little more motivated now to get into hats a little deeper, and add some different styles to your repertoire?
Leave Your Comment(s) Below…