That is the question, isn't it? Why create a site in a crowded field like women's fashion, where there is a boatload of competition? Why subject one's self to a long, uphill struggle where the chances of "making some noise" is pretty remote, at best? And, what is the obsession with hats and caps for women and girls, when I am not a woman or a girl?
Glad You Asked
If you're thinking there is some deep, dark secret here, where I've had a longing, since childhood, to wear women's hats or something like that, I am going to disappoint you. The reason is not a willy-nilly one, for sure. There is, indeed, a real seriousness to it, and it may surprise you.
If you were to think that I have a love of hats, in general, you would be right on that point. There is truth to the fact that I could spend whole paychecks on a passel of hats. But, that's not what created this idea, either.
What is a passel anyway? It's a large group of people or things of indeterminate number.
If you are confident that I am here to make boatloads of money from a site like this … well, that wouldn't break my heart. But, that's not the primary reason a site about headwear for the fairer sex exists under my purview (I have always wanted to use "purview" in a sentence, but never seem to do it, until now). It's going to be a lot of work and for who knows how much money. Time will tell, as they say.
The Beginning of the Story
You thought I'd never get here, right?
My wife and I have had three children in our 36 years of marriage (as of 2021). Two beautiful girls and one handsome son. Like any of you parents with adult children, your kids have been at the very top of the pile in terms of priorities in your life. You love them in ways that you might not have thought possible, and you would do anything for them.
In August of 2020, our family's life changed in a way we could not have imagined. Two days before our middle child's birthday, early Sunday morning, she underwent a medical situation that put her in the hospital, unconscious.
Kelley's birthday was spent in the hospital and she passed away the next Sunday. While I could go into lots of details, I don't think this is the right place to tell that story. I will say that we were incredibly blessed with love and support and compassion and truly selfless deeds, and much more, from our network of family and friends all over the country.
With God's help, we made it through that horrible time. Even though it's been over a year now, there are still challenges dealing with the loss of our dear daughter. We have come to fully understand the benefits of deeply leaning on each other as well as our family, friends and our faith.
This type of loss goes on every day around the world. We are not special, in any way, in our loss. We know that. This loss has increased our sensitivity to the loss that people endure. We are dealing with it in the way that we were taught and was modeled before us by family and our network of friends.
Let Me Introduce You

Our middle daughter's name is Kelley. She was an entity unto herself. Crazy. Fiercely independent. Funny. Creative. A storyteller – watch out if she ever got an audience to listen to a hilarious story about recent goings-on or something that happened, that she was a part of.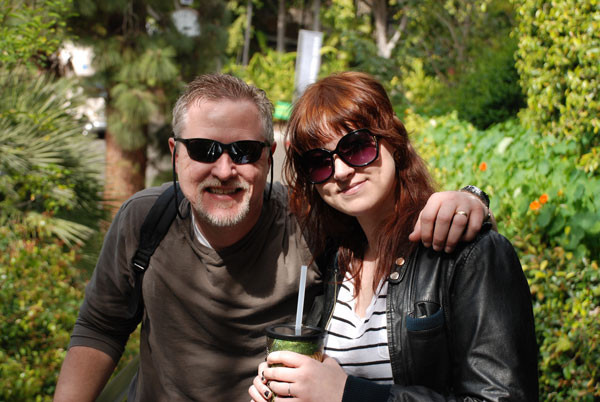 Kelley had her own style. In music. In her clothing choices. In her personal looks, including a wealth of colorful art on her body (tattoes).
She was an awesome cook – her collard/turnip greens mix was one of the best dishes you would ever put in your mouth!
There were things that only Kelley and I, as her father, did together. When she moved back home due to health issues, we both bought vintage Raleigh bikes and began an almost daily riding routine at a local greenway. For almost two years, until our schedules changed, we spent hours of wonderful time together, hair flying in the wind, breathing in fresh air and getting some great exercise.
But, Kelley's favorite phrase was a telling feature of the type of personality that affected much of her life and relationships. "Don't tell me what to do" was a phrase that pretty much all of us came to appreciate, and still make reference to, this day.
Believe me, there is MUCH MORE I could tell you about Kelley, but we'll leave that for another time. She is greatly missed every day!
The Real Reason the Site Exists
As a web design guy, I had great inspirational moments (dreams) in the past few years, where I would start up a cool website in an arena that each of my kids were interested in. Once I got it going, my plan was to turn it over to them at various points, as a sort of legacy moment in our history. This would give them ownership of an ongoing concern with a viable track record.
You guessed it — ChickLidz was the site that I wanted to start for Kelley. She loved headwear … hats and caps, especially beanies and cowboy hats. Kelley looked great in hats. When she dressed up and "did" her makeup (utilizing skills learned from her aesthetics experience), she had a stunning look that drew attention everywhere we went.
There were other hats she wore, and talked about several other ones that she wanted to get at some point. There are a couple of pictures I truly wish I could share, but Kelley would somehow make me pay, I am sure.
True to form, my wife and I got her a cowboy hat for Christmas that I was absolutely positive she would love. Not! We took it back to the store.
Where We are Now
It's "early days" on the website at this point in time. I have tons of notes and blog post titles, and some plans and goals for the site. Even though the climb up the hill is daunting at this point, I plan to give it a serious "college try" (as Kelley loved to say).
I have a pretty good knowledge of men's hats, so it doesn't seem to be a huge stretch to think that I can create a decent  website in memory of Kelley. I do want it to be good. To be a quality site that honors her and my (our) memory of her. To be a place that can hopefully inspire people to be more, and do more, on behalf of others, and to be involved in a cause bigger than themselves.
Conclusion
For about a year now, my wife and I have been pondering over a possible non-profit that we could either support or create, in memory of Kelley. That is still in the works. Once we get that up and running, I am sure this site will have some connection with it.
Speaking of connections, this site also serves an important purpose to me, as Kelley's dad. It's something of a point of connection between she and I that I didn't want to let go of. Honestly, this is hard to write. It might have been personally easier to not include this information about Kelley, but my hope is that someone reading this story may be inspired to do something that elevates people in their circle of influence.
If that's you, I'd love to hear about it.
Thanks for being here and for reading my "why." You matter!
Phil, for ChickLidz
---
Put on Your Thinking Cap:
Can you relate to the "why" behind the reason this website was created?

Is "your" why big enough for you to do something like creating a site like this one, or starting up a company or a non-profit?

After reading this article, what is a positive takeaway, or some type of reminder, that you can apply to your life to lift up or help other people in your sphere of influence?
Leave Your Comment(s) Below…