I know I noticed women's hats in the entertainment world, before really paying attention to the ones I saw in a favorite movie of mine. For some reason, though, this particular movie flipped the switch for me.
I have two daughters, and I've always thought they looked really cute in hats and caps. They didn't necessarily like to wear them, though, as much as I liked seeing them wear them. My gentle prodding and hints and offers, well, didn't do much good.
Watching this particular movie, though, and thinking about my wife and my daughters and females, in general, wearing hats, created a bit of an obsession. It got me thinking. It even got me dreaming a bit.
This Movie Got Me Thinking
The Guernsey Literary and Potato Peel Pie Society movie came out in 2018. Firstly, the name is amusing. It made me laugh out loud.
We missed going out to see it at the theater and scrolled right past it on PrimeVideo. However, we came back to give it a look-see, just because of the name. Boy howdy, am I glad we did.
Secondly, the movie is just chock full of hats. The costumes and period lend themselves to that time when hats were super popular. They're the kind I enjoy looking at. The film features Lily James and Jessica Brown Findlay, both of Downton Abbey fame, and both wearing really cool hats and caps. Katherine Parkinson is seen throughout the movie wearing a headband — we loved her in Doc Martin as his secretary (here's an image of her from the movie – https://www.imdb.com/name/nm1817670/mediaviewer/rm1696945152/).
Another Downton regular, Penelope Wilton, dons a few caps in her role, as well.
The "Guernsey" Movie Trailer
Here's the movie's trailer which will give you a nice idea of what the film is about, and will introduce you to some of the great "hat" shots:
As noted on the film's imdb description: "A writer forms an unexpected bond with the residents of Guernsey Island in the aftermath of World War II when she decides to write a book about their experiences during the war." (https://www.imdb.com/title/tt1289403/)
It's an interesting movie about a serious topic, but it's also visually interesting and nicely entertaining.
Links to Hat Images
Here are some links to some of the great featured hats in the movie worn by Lily:
Not a Movie Reviewer or Critic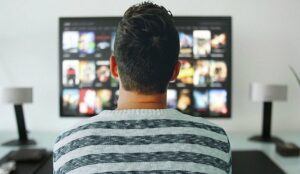 I am not a movie critic, by any stretch, but I do have an ability to just sit down and watch a movie for pure entertainment purposes. Ripping it apart while criticizing the fact that a film may not make perfect sense or may be missing some technical feature, etc … that is just not my thing. That's perfectly fine for folks who are of that ilk, but I seldom go there.
Stunning visuals like landscapes and costumes, architectural elements and smooth machines (like exotic cars) … those are more my jam.
I love the cool, unique, stylish hats that fall within the realm of my interests, especially in the period movies where wearing fashionable clothing is a such a "thing."
Not Just in the Movies
Hats and caps worn by women and girls can be found in all kinds of entertainment. They are really popular when you start looking. Sometimes, they fit so well, you don't even notice them. It's like they are a set prop that is "just there." It helps to make the scene work, but it may not be that noticeable.
You've seen hats and caps in music videos, TV shows, sports events (ballgames, fishing tournaments, rodeos, races), concerts, and more. Parades, roller derby and wrestling matches, too. Once you get to noticing them, it's like when you buy a certain make and model of car. Once you drive it off the lot, it seems like you start seeing them everywhere, oftentimes in the same color as yours. So much for picking out the "special" one, right?
You can wear hats and caps anywhere. Virtually any time. About any place. The point is: they are out there in the mainstream. Lots of people wear them. But there is ALWAYS room for many more to be worn. You've just got to join the party!
Be the Entertainer in Your Neck of the Woods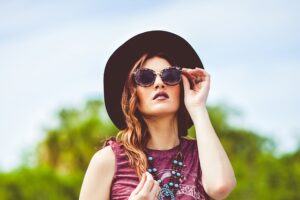 Got kids? A spouse? Group of friends? Work mates? Play mates?
You could be the trend-setter in your circle of influence. If you love hats and would love to wear more of them, just step out and go for it. Take charge and grab the bull by its horns. There are so many styles and types of hats, you are sure to find one (most likely, more than one) that suits your purposes and fills a potential gap in your wardrobe.
Get people looking and talking about your cool hats and caps. Make them a part of your every day life, or wear them frequently on special occasions.
Here to Inspire
We are here to help you on your hat-loving journey. Please come back and visit often. Tell us about how you came to love hats, either years ago or just recently, and what kind of hats you love to wear. Tell us what you'd like to know more about in the hat world. Tell us how you "entertain" those around you with your choices of hats and caps. We would love to hear from you.
May all your hat dreams come true!
chicklidz
Put on Your Thinking Cap:
What is your favorite movie that features an actress or actresses wearing a hat (or hats)?

Do you have a favorite actress that you've seen wearing a hat (or hats)?

Are you interested, now, in watching the movie with the crazy name, The Guernsey Literary and Potato Peel Society?

Let us know what you thought about it. More importantly, what did you think about the hats in the movie?

What other female entertainment personalities wear hats and/or caps well? (Name/field/where wearing a hat(s), if you'd like to share. Thanks!)
Leave Your Comment(s) Below…